Banchetto musicale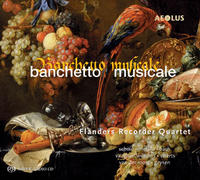 Aeolus, 2007
AE 10156
EAN: 4026798101565
Audio Beispiel:
J.H. Schein - Suite (fragm.)
Das Programm reicht vom 17. bis zum 21. Jahrhundert. Die Namen Johann Hermman Schein, Tarquinio Merula und Johann Sebastian Bach für die Schätze des frühen Blockflötenmusik stehen. Ralph Vaughan Williams wunderbar und selten zu hörende "Suite für Rohre" führt in das zeitgenössische Repertoire, vertreten durch Werke von Piet Swerts, Jan Van Roost und Frans Geysen, die lebendige, phantasievolle und von unerhörter Klangschönheit sind: Es ist nicht ohne Grund dass zahlreiche Kompositionen des Flanders Recorder Quartet gewidmet. Eine ausdrucksstarke Improvisation im mittelalterlichen Stil wird ebenfalls angeboten.
Tracklist:
Suite No. 20 (from "Banchetto musicale") G minor Johann Hermann Schein (1586-1630)
Praeludium (Fantasia) & Fuga C minor [BWV 537] Johann Sebastian Bach (1685-1750)
La Marcha Tarquinio Merula (c.1590-1665)
La Livia Tarquinio Merula (c.1590-1665)
Suite for Pipes: Intrada - Minuet - Valse - Finale (Jig) Ralph Vaughan Williams (1872-1958)
Three Gadgets: Catch Phrases - Theatre of the Absurd - Flashing Flutes Piet Swerts (*1960)
I Continenti: Asia - South America - Oceania - North America - Africa Jan Van der Roost (*1956)
Czaldy Waldy - La Manfredina - La Rotta della Manfredina (c.1400, arr. FRQ) Anonymus
op de fles Frans Geysen (*1936)
La Bizzarra Nicolò Corradini (?-1646)
Bestellung ist leer
frq
frq
26.März 2018
EDINBURGH BACH CONCERT: RESCHEDULED!
Our 17 March Edinburgh concert could not take place owing to travel delays caused by cancellation of flights at London Heathrow Airport. Together with the Georgian Concert Society, wer're delighted to announce that the concert has been re-scheduled for Saturday 21 April 2018 at 7.30pm at St Andrew's and St George's West Church, 13 George Street, Edinburgh EH2 9PA. Ticket holders can use the tickets for Saturday 17 March for this concert. Ticket holders who cannot attend the re-scheduled concert can apply for a refund by sending their tickets to the Administrator at 64 Brunswick Street, Edinburgh EH7 5HU together with a note of the name and address and a cheque will be sent out. Refunds must be claimed by Friday 13 April 2018. Ticket holders who bought their tickets from The Queen's Hall Box Office should apply to The Queen's Hall for refunds.