The Uncertainty Principle (guest)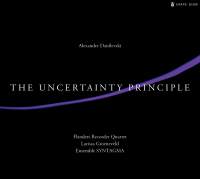 Carpe Diem, 2012
CD-16291
EAN: 4032324162917
Audio Beispiel:
Alexandre Danilevskaia, Allegretto from 'Antiphones' (fragm.)
Diese CD ist derzeit vergriffen.
A journey into the mystical world of composer Alexandre Danilevski

... Das schon angesprochene Flanders Recorder Quartet erweist sich als ideales Medium der kompositorischen Intentionen Danilevskis, die Tom Beets', Bart Spanhoves, Paul Van Loeys und Joris Van Goethems Fähigkeiten ganz entsprechen. Technisch wird das höchste denkbare Niveau erreicht, aber auch die geduldige Phrasierungskunst kommt nicht zu kurz, trotz der schon erwähnten aberwitzigen Bewegtheit mancher Passage.
[Dr. Matthias Lange, www.klavier.de, 10.10.2012]
Bestellung ist leer
frq
frq
26.März 2018
EDINBURGH BACH CONCERT: RESCHEDULED!
Our 17 March Edinburgh concert could not take place owing to travel delays caused by cancellation of flights at London Heathrow Airport. Together with the Georgian Concert Society, wer're delighted to announce that the concert has been re-scheduled for Saturday 21 April 2018 at 7.30pm at St Andrew's and St George's West Church, 13 George Street, Edinburgh EH2 9PA. Ticket holders can use the tickets for Saturday 17 March for this concert. Ticket holders who cannot attend the re-scheduled concert can apply for a refund by sending their tickets to the Administrator at 64 Brunswick Street, Edinburgh EH7 5HU together with a note of the name and address and a cheque will be sent out. Refunds must be claimed by Friday 13 April 2018. Ticket holders who bought their tickets from The Queen's Hall Box Office should apply to The Queen's Hall for refunds.