Nowel, Nowel!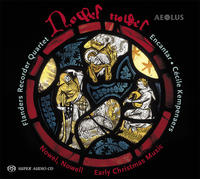 Aeolus, 2010
AE 10176
EAN: 4026798101763
Audio Beispiel:
Clemens non Papa - Descendit angelus domini (fragm.)
Weihnachtliche Musik aus dem Mittelalter und der Renaissance: Eine ganz besondere CD zu Weihnachten wird von Flanders Recorder Quartet zusammen mit dem jungen belgischen Vokalensemble Encantar und Sopran Cecile Kempenaers vorgestellt. Traditionelle Melodien sowie Gregorianik, Gemahlin Lieder und Choräle: so früh Weihnachtsmusik rediates viel Charakter und Farbe, Fröhlichkeit und Besinnlichkeit.

Die großen Blockflöten, praktisch ein "lebendes Organ," sind die perfekten Partner für die Sänger. Um auf dieser CD zu hören ist der weltweit größte Recorder, ein 3-Meter langen Sub-Kontrabass.

Dies ist das Flanders Recorder Quartet fünfte Produktion für AEOLUS und das CD-Debüt der vier bemerkenswerte junge Sänger Encantar.
Tracklist:
Ave stella matutina Anonymus
Gelobet seist Du, Jesu Christ Samuel Scheidt (1587-1654)
Descendit angelus Domini Clemens non Papa (c.1510-c.1556)
Lullay, lullay Anonymus
O Regem coeli Tomás Luis de Victoria (1548-1611)
Born is the Babe Anonymus
Sweet was the Song (arr. Th. Hamond, ?-1662) Anonymus
Sweet was the Song Anonymus
Summo parenti gloria Michael Praetorius (1571-1621)
Hymnus in adventu Domini: Alvus tumescit virginis Michael Praetorius (1571-1621)
Christum wir sollen loben Jacob Praetorius (1586-1651)
Quem vidistis pastores Lambert de Sayve (c.1548-1614)
Gabriel angelus Clemens non Papa (c.1510-c.1556)
Magnificat Alexander Agricola (1446-1506)
Nowel, nowel Anonymus
Bestellung ist leer
frq
frq
26.März 2018
EDINBURGH BACH CONCERT: RESCHEDULED!
Our 17 March Edinburgh concert could not take place owing to travel delays caused by cancellation of flights at London Heathrow Airport. Together with the Georgian Concert Society, wer're delighted to announce that the concert has been re-scheduled for Saturday 21 April 2018 at 7.30pm at St Andrew's and St George's West Church, 13 George Street, Edinburgh EH2 9PA. Ticket holders can use the tickets for Saturday 17 March for this concert. Ticket holders who cannot attend the re-scheduled concert can apply for a refund by sending their tickets to the Administrator at 64 Brunswick Street, Edinburgh EH7 5HU together with a note of the name and address and a cheque will be sent out. Refunds must be claimed by Friday 13 April 2018. Ticket holders who bought their tickets from The Queen's Hall Box Office should apply to The Queen's Hall for refunds.