Bassano - Viva l'amore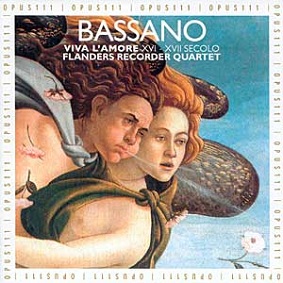 Opus 111, 2000
OPS 30-239
Audio Beispiel:
Diese CD ist derzeit vergriffen.
So breitet diese CD das reichhaltige Klangspektrum des englischen Hofes am 16. Jahrhundert aus und das mit einer nicht häufig zu hörenden Präzision und Virtuosität im Musizieren.
"Alte Musik Aktuell", April 2000

L'homogénéité de leur jeu, parfait jusque dans le détail de l'attaque ou la forme de chaque note, leur virtuosité sans limite (bien que pudiquement contenue ici), et surtout la maîtrise de la justesse qui nous vaut un tempérament mésotonique d'une pureté savoureuse? La quintessence de la flûte à bec, l'Art du consort portés à leur perfection.
Serge Grégory, "Répertoire", October 1999

Tracklist:
Henry VIII -
· Pastime with good company
· Helas, madame
Bassano II - Fantasia a 5 n° 3
Anonymous - Let not us that young men be
Bassano - Pavan
Anonymous - Madame d'amours
Antony Holborne
· Galliard Passion
· Pavana Ploravit
· Galliard Sic semper soleo
· Almaine The choyce
· Almaine The honie-suckle
· Galliard Heigh-ho holiday
· Galliard The fairie-round
Ferrabosco I -
· Pavin
· Di sei bassi
· Interdette speranze
Bassano - Pavane 16 a 6
Bassano II - Almande 15 a 6
Coperario - Almande 22 a 6
Lassus - Mon coeur se recommande à vous
Lloyd -
· Puzzle-canon I
· Puzzle-canon II
Marenzio - Nel più fiorito Aprile
Blancks - Phancy
Vecchi - Saltavan Ninfe, Satiri e Pastori
Harden -
· A Fancy I
· A Fancy II
Bestellung ist leer
frq
frq
18.November 2017
Just in: American Recorder Society Distinguished Achievement Award for the Flanders Recorder Quartet. Overwhelming - thank you so much!