Encore!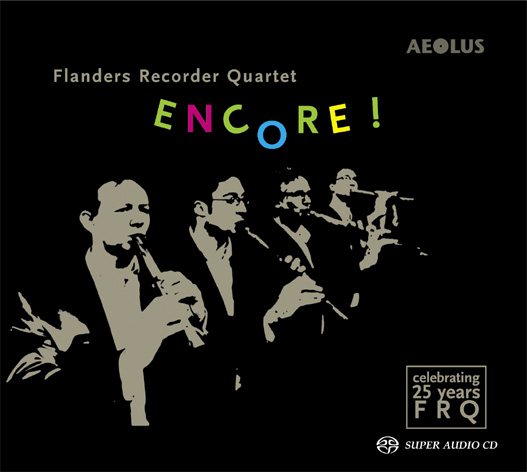 Aeolus, 2012
AE-10196
Audio Beispiel:
Willem Wander van Nieuwkerk - Catch an Angel (fragm.)
Vier Musiker kommen auf die Bühne, etwas konzentrierter als gewöhnlich und etwas weniger gut organisiert, als man es bei einem klassischen Konzert erwarten würde... Jeder hat seine eigenen Noten dabei: einer trägt einen vergilbten Stapel Partituren, ein anderer hat einen sauberen Ordner für die Blätter, ein dritter eine abgegriffene rote Mappe mit barocken Verzierungen. Ein verstohlener Blick zwischen den Musikern scheint zu bestätigen, daß das Konzert beginnen wird, daß die Freude dess Musikmachens nur wenige Momente entfernt ist. Noch ein Blick in die Noten: welches Stück werden wir zuerst spielen? – ein Flüstern, ein letzter Blick um die Reihenfolge und das richtige Instrument zu überprüfen. Eine Verbeugung – wir sind fast angekommen. Wie eine einzige Person atmen sie Luft und Inspiration, und dann gibt man sich hin dem Wunder der Musik. Nach mehr als zweitausend Konzerten während ihres 25-jährigen Bestehens hat das Flanders Recorder Quartet nicht mehr wirkliches Lampenfieber. Aber wenn das Publikum seine eigene top of the bill wählen kann und das Konzertprogramm erst kurz vor Konzertbeginn selbst zusammenstellt, kann sich das ändern...

Während der Saison 2010-2011 stellte das Flanders Recorder Quartet ein ungewöhnliches Programm vor: seine eigene Jukebox als Konzert. Hier gab es kein thematisch orientiertes Programm, kein Folgen von Pierre de la Rues Spuren, keine Auswahl von Songs Heinrichs VIII., sondern einen radikal neuen Vorschlag. Bei Jukebox würde das Publikum entscheiden, was das FRQ an diesem Nachmittag oder Abend spielen würde. Das Konzept war
denkbar einfach: Das FRQ brachte alle seine Instrumente mit und Mappen voller Noten. Die Sammlung von mehr als hundert verfügbarer Stücke bot einen ansehnlichen Querschnitt von verschiedenster Blockflöten-Literatur, wie auch persönlich Lieblingsstücke von Tom Beets, Bart Spanhove, Joris Van Goethem und Paul Van Loey. Ein Computer würde das Votum des Publikums auswerten und uns das Ergebnis mitteilen, wobei noch 15 Minuten
verblieben, um die Reihenfolge der Stücke zu bestimmen. Wo immer wir dies ausprobierten, sei es in einem kleinen Schloss in Deutschland, in einer Schule auf dem Lande in Flandern, oder auf einem Musikfestival in Südkorea – es funktionierte!

Zwanzig Jukebox-Auftritte später zogen wir Bilanz. Wie beantworten Fans die Frage: "Was würden Sie gerne nochmal hören?" Vor allem bevorzugen sie das Spektakuläre: Virtuoses, unmittelbar ansprechendes, fröhliches, ein bißchen Verrücktes. Die Stücke, die all diese Attribute verkörpern, stellen sich heraus als die häufigsten Zugaben (Encores) bei einem FRQ-Konzert. Die Freude, die das Publikum und die Musiker hatten bei Jukebox, findet
ihre Konsequenz auf dieser CD. Encore!
Tracklist:
Kadanza Willem - Wander van Nieuwkerk (*1955)
You made me love you - James Monaco (1885-1945), arr. Stan Davis
Ella's Blues - Jeroen d'Hoe (*1968)
Czárdás - Vittorio Monti (1868-1922), arr. Joris Van Goethem
Dalton Ska - Jacob de Haan (*1959)
Blås-Blues - Björn Hagvall (*1943)
Non più Mesta - Jan Van Landeghem (*1954), after Frédéric Chopin (1810-1849)
Catch an Angel - Willem Wander van Nieuwkerk (*1955)
Carmen - Georges Bizet (1838-1875), arr. Stan Davis
New Braun - Bag Pete Rose (*1942)
Moonlight Serenade - Glenn Miller (1904-1944), arr. Paul Van Loey
Tango in Trouble - Piet Swerts (*1960)
Stamping Ground - Willem Wander van Nieuwkerk
South-America - Jan Van der Roost (*1956)
Les Barricades - Matthias Maute (*1963)
Pizzicato-Polka - Johann Strauss jr. (1825-1899), arr. Joris Van Goethem
Circus Renz - Jan Van Landeghem, after Gustav Peter (1833-1919)
Autumn Leaves - Joseph Kosma (1905-1969), arr. Jeroen d'Hoe
Op de fles - Frans Geysen (*1936)
Turkish Bumble-Bee Rondo - Jan Van Landeghem
Kriminaltango - Piero Trombetta (c.1920-?), arr. Sylvia Rosin

Bestellung ist leer
frq
frq
26.März 2018
EDINBURGH BACH CONCERT: RESCHEDULED!
Our 17 March Edinburgh concert could not take place owing to travel delays caused by cancellation of flights at London Heathrow Airport. Together with the Georgian Concert Society, wer're delighted to announce that the concert has been re-scheduled for Saturday 21 April 2018 at 7.30pm at St Andrew's and St George's West Church, 13 George Street, Edinburgh EH2 9PA. Ticket holders can use the tickets for Saturday 17 March for this concert. Ticket holders who cannot attend the re-scheduled concert can apply for a refund by sending their tickets to the Administrator at 64 Brunswick Street, Edinburgh EH7 5HU together with a note of the name and address and a cheque will be sent out. Refunds must be claimed by Friday 13 April 2018. Ticket holders who bought their tickets from The Queen's Hall Box Office should apply to The Queen's Hall for refunds.