Sei Willekommen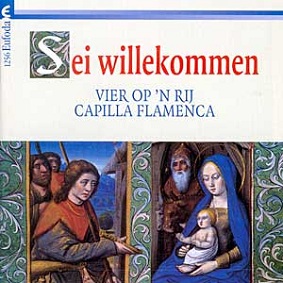 Eufoda, 1997
Eufoda 1256
Audio Beispiel:
Diese CD ist derzeit vergriffen.
Tracklist:
Anonymous - Kyrie, god is ghecomen
Anonymous - O Kersnacht, schoonder dan de dagen
Michaël Praetorius - O herders, laet u bocxkens en schaepen
Jacob Van Eyck - Een kindeken is ons gebooren
Cornelis De Leeuw - Een kindeken is ons gebooren
Anonymous - O salich heylich Bethlehem
Anonymous - Met desen nieuwen Jaere
Guilelmus Messaus - Met desen nieuwen Jaere
Dirck Janszoon Sweelinck - Ons is gheboren een kindekijn
Dietrich Buxtehude - Koraal In dulci iubilo
Dietrich Buxtehude - In dulci iubilo
Samuel Scheidt - Hymnus de Adventu Domini
Hans Leo Hassler - Dixit Maria ad angelum
Hans Leo Hassler - Fuga Nun freut euch, lieben Christen g'mein
Jacobus Gallus - Regem natum angelus
Girolamo Frescobaldi - Ricercare

Bestellung ist leer
frq
frq
26.März 2018
EDINBURGH BACH CONCERT: RESCHEDULED!
Our 17 March Edinburgh concert could not take place owing to travel delays caused by cancellation of flights at London Heathrow Airport. Together with the Georgian Concert Society, wer're delighted to announce that the concert has been re-scheduled for Saturday 21 April 2018 at 7.30pm at St Andrew's and St George's West Church, 13 George Street, Edinburgh EH2 9PA. Ticket holders can use the tickets for Saturday 17 March for this concert. Ticket holders who cannot attend the re-scheduled concert can apply for a refund by sending their tickets to the Administrator at 64 Brunswick Street, Edinburgh EH7 5HU together with a note of the name and address and a cheque will be sent out. Refunds must be claimed by Friday 13 April 2018. Ticket holders who bought their tickets from The Queen's Hall Box Office should apply to The Queen's Hall for refunds.