Malus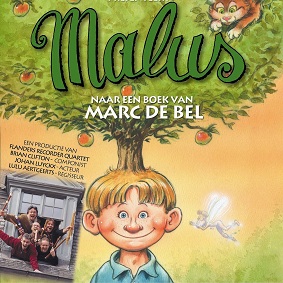 De Kunst, 2008
Audio Beispiel:
Brian Clifton - Malus is dolgelukkig (fragm.)
Diese CD ist derzeit vergriffen.
Malus is the strory of a boy that is a little bit different. This CD is a listen-CD with Dutch narratives and lots of fun music.

STORY: Marc de Bel
MUSIC: Brian Clifton
NARRATION: Kurt Rogiers
MUSICIANS: Flanders Recorder Quartet

lizet@dekunst.eu
Bestellung ist leer
frq
frq
15.Juni 2018
Bart's current town, Bertem, will be celebrating its cultural and sporty people of the year. He will be receiving the award for best musical act for the Flanders Recorder Quartet on 22nd July. Congrats!