The Uncertainty Principle (guest)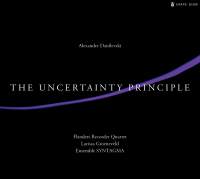 Carpe Diem, 2012
CD-16291
EAN: 4032324162917
Audio sample:
Alexandre Danilevskaia, Allegretto from 'Antiphones' (fragm.)
A journey into the mystical world of composer Alexandre Danilevski.

Guest appearance of FRQ (12 minutes track)

... Das schon angesprochene Flanders Recorder Quartet erweist sich als ideales Medium der kompositorischen Intentionen Danilevskis, die Tom Beets', Bart Spanhoves, Paul Van Loeys und Joris Van Goethems Fähigkeiten ganz entsprechen. Technisch wird das höchste denkbare Niveau erreicht, aber auch die geduldige Phrasierungskunst kommt nicht zu kurz, trotz der schon erwähnten aberwitzigen Bewegtheit mancher Passage.
[Dr. Matthias Lange, www.klavier.de, 10.10.2012]
Shopping cart is empty
frq
frq
May 14, 2017
Updated the Calendar. Quite a list!