Nowel, Nowel!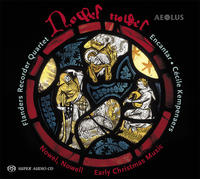 Aeolus, 2010
AE 10176
EAN: 4026798101763
Audio sample:
Clemens non Papa - Descendit angelus domini (fragm.)
A very special CD for Christmas is presented by Flanders Recorder Quartet together with the young Belgian vocal ensemble Encantar and soprano Cecile Kempenaers: Christmas music from the Middle Ages and the Renaissance. Traditional melodies as well as Gregorian chant, consort songs, and chorales: this early Christmas music rediates a lot of character and color, cheerfulness and contemplation.

The large recorders, practically a "living organ," are the perfect partners for the singers. To be heard on this CD is the world's largest recorder, a 3-meter-long sub-contrabass.

This is the Flanders Recorder Quartet\'s fifth production for AEOLUS, and the CD debut of the four remarkable young singers of Encantar.
Tracklist:
Ave stella matutina Anonymus
Gelobet seist Du, Jesu Christ Samuel Scheidt (1587-1654)
Descendit angelus Domini Clemens non Papa (c.1510-c.1556)
Lullay, lullay Anonymus
O Regem coeli Tomás Luis de Victoria (1548-1611)
Born is the Babe Anonymus
Sweet was the Song (arr. Th. Hamond, ?-1662) Anonymus
Sweet was the Song Anonymus
Summo parenti gloria Michael Praetorius (1571-1621)
Hymnus in adventu Domini: Alvus tumescit virginis Michael Praetorius (1571-1621)
Christum wir sollen loben Jacob Praetorius (1586-1651)
Quem vidistis pastores Lambert de Sayve (c.1548-1614)
Gabriel angelus Clemens non Papa (c.1510-c.1556)
Magnificat Alexander Agricola (1446-1506)
Nowel, nowel Anonymus
Shopping cart is empty
frq
frq
June 15, 2018
Bart's current town, Bertem, will be celebrating its cultural and sporty people of the year. He will be receiving the award for best musical act for the Flanders Recorder Quartet on 22nd July. Congrats!