The Six Wives of Henry VIII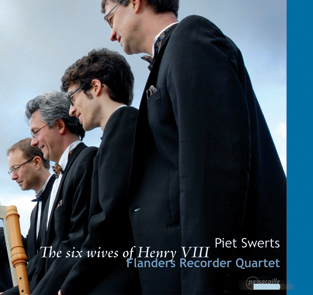 Passacaille, 2008
PAS 948
Audio sample:
Piet Swerts - The Arrest of Mark Smeaton (fragm.)
This cd is currently out of print.
A lifespan in early and modern sounds
With Patrick Van Goethem


Tracklist:
CATHERINE OF ARAGON
1 Prologue, Piet Swerts
2 Welcome!, Piet Swerts
3 Coronation, Piet Swerts
4 Court life, Piet Swerts
5 En vray amoure, Henry VIII
6 My love sche morneth, William Cornish
7 Isolation and prayer, Piet Swerts
ANNE BOLEYN
8 Taunder naken, Henry VIII
9 Henry's loveletters, Piet Swerts
10 Hunting, Piet Swerts
11 Quarrels, Piet Swerts
12 Downfall: arrest of Mark Smeaton (), Piet Swerts
13 Puzzle canon VI, Anon
JANE SEYMOUR
14 Wherto shuld I expresse, Henry VIII
15 Peace and calm, Piet Swerts
16 Prince Edward, Piet Swerts
17 Firework and gunshots, Piet Swerts
18 Madame d'amours, Anon
ANNE OF CLEVES
19 I love unloved, Anon
20 A long journey, Piet Swerts
21 I like her not, Piet Swerts
22 Thomas Cromwell, Piet Swerts
CATHERINE OF HOWARD
23 No other wish but his, Piet Swerts
24 The enquiry, Piet Swerts
25 The haunted gallery, Piet Swerts
CATHERINE PARR
26 Adieu, adieu, my heartes lust, William Cornish
27 Catherine's prayerbook, Piet Swerts
28 Epilogue, Piet Swerts
Shopping cart is empty
frq
frq
March 26, 2018
EDINBURGH BACH CONCERT: RESCHEDULED!
Our 17 March Edinburgh concert could not take place owing to travel delays caused by cancellation of flights at London Heathrow Airport. Together with the Georgian Concert Society, wer're delighted to announce that the concert has been re-scheduled for Saturday 21 April 2018 at 7.30pm at St Andrew's and St George's West Church, 13 George Street, Edinburgh EH2 9PA. Ticket holders can use the tickets for Saturday 17 March for this concert. Ticket holders who cannot attend the re-scheduled concert can apply for a refund by sending their tickets to the Administrator at 64 Brunswick Street, Edinburgh EH7 5HU together with a note of the name and address and a cheque will be sent out. Refunds must be claimed by Friday 13 April 2018. Ticket holders who bought their tickets from The Queen's Hall Box Office should apply to The Queen's Hall for refunds.