Sei Willekommen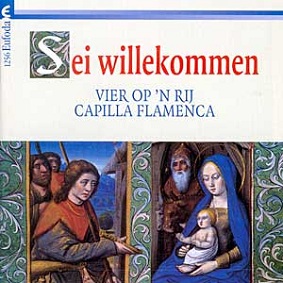 Eufoda, 1997
Eufoda 1256
Audio sample:
This cd is currently out of print.
Tracklist:
Anonymous - Kyrie, god is ghecomen
Anonymous - O Kersnacht, schoonder dan de dagen
Michaël Praetorius - O herders, laet u bocxkens en schaepen
Jacob Van Eyck - Een kindeken is ons gebooren
Cornelis De Leeuw - Een kindeken is ons gebooren
Anonymous - O salich heylich Bethlehem
Anonymous - Met desen nieuwen Jaere
Guilelmus Messaus - Met desen nieuwen Jaere
Dirck Janszoon Sweelinck - Ons is gheboren een kindekijn
Dietrich Buxtehude - Koraal In dulci iubilo
Dietrich Buxtehude - In dulci iubilo
Samuel Scheidt - Hymnus de Adventu Domini
Hans Leo Hassler - Dixit Maria ad angelum
Hans Leo Hassler - Fuga Nun freut euch, lieben Christen g'mein
Jacobus Gallus - Regem natum angelus
Girolamo Frescobaldi - Ricercare

Shopping cart is empty
frq
frq
June 15, 2018
Bart's current town, Bertem, will be celebrating its cultural and sporty people of the year. He will be receiving the award for best musical act for the Flanders Recorder Quartet on 22nd July. Congrats!