Le Quattro Stagioni - Antonio Vivaldi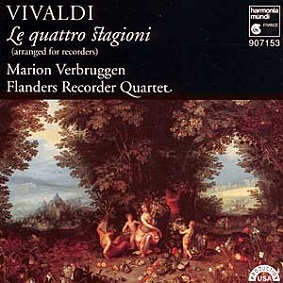 Harmonia Mundi France, 2006
HMU 907153
This cd is currently out of print.
This CD is magic
Robert Levine, in "Classical Pulse", October-November 1996

beguiling lightness of touch and clarity of texture? surprising amount of colour? The performances are brilliant, Verbruggen finding an amazing wide range of nuance in her assumption of the violin part, and her colleagues meeting the virtuosic demands made on them with unerring skill
Brian Robbins, in "Fanfare", September-October 1996

The arrangement is distinguished by its exceptional musicality, and the performance is stunning, with every phrase beautifully articulated.
William Livingstone, in "Stereo Review", September 1996

The sound is superb, carefully favouring the soloist when necessary
Angela Bell, in "Early Music Review", September 1996

The Flanders Recorder Quartet trims the fat and gets The Four Seasons back in shape with no strings attached
David Cornell, in "Long Island Lifestyles", May 1996
Tracklist:
Spring
Summer
Autumn
Winter
Shopping cart is empty
frq
frq
November 18, 2017
Just in: American Recorder Society Distinguished Achievement Award for the Flanders Recorder Quartet. Overwhelming - thank you so much!