Le Quattro Stagioni - Antonio Vivaldi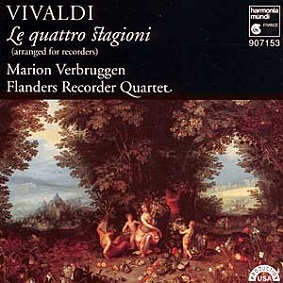 Harmonia Mundi France, 2006
HMU 907153
This cd is currently out of print.
This CD is magic
Robert Levine, in "Classical Pulse", October-November 1996

beguiling lightness of touch and clarity of texture? surprising amount of colour? The performances are brilliant, Verbruggen finding an amazing wide range of nuance in her assumption of the violin part, and her colleagues meeting the virtuosic demands made on them with unerring skill
Brian Robbins, in "Fanfare", September-October 1996

The arrangement is distinguished by its exceptional musicality, and the performance is stunning, with every phrase beautifully articulated.
William Livingstone, in "Stereo Review", September 1996

The sound is superb, carefully favouring the soloist when necessary
Angela Bell, in "Early Music Review", September 1996

The Flanders Recorder Quartet trims the fat and gets The Four Seasons back in shape with no strings attached
David Cornell, in "Long Island Lifestyles", May 1996
Tracklist:
Spring
Summer
Autumn
Winter
Shopping cart is empty
frq
frq
March 26, 2018
EDINBURGH BACH CONCERT: RESCHEDULED!
Our 17 March Edinburgh concert could not take place owing to travel delays caused by cancellation of flights at London Heathrow Airport. Together with the Georgian Concert Society, wer're delighted to announce that the concert has been re-scheduled for Saturday 21 April 2018 at 7.30pm at St Andrew's and St George's West Church, 13 George Street, Edinburgh EH2 9PA. Ticket holders can use the tickets for Saturday 17 March for this concert. Ticket holders who cannot attend the re-scheduled concert can apply for a refund by sending their tickets to the Administrator at 64 Brunswick Street, Edinburgh EH7 5HU together with a note of the name and address and a cheque will be sent out. Refunds must be claimed by Friday 13 April 2018. Ticket holders who bought their tickets from The Queen's Hall Box Office should apply to The Queen's Hall for refunds.