Banchetto musicale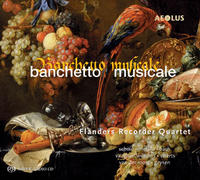 Aeolus, 2007
AE 10156
EAN: 4026798101565
Audio sample:
J.H. Schein - Suite (fragm.)
Het programma varieert van de 17e tot de 21e eeuw. De namen Johann Hermman Schein, Tarquinio Merula en Johann Sebastian Bach staan ​​voor de schatten van de vroege recorder muziek. Prachtige en zelden gehoorde Ralph Vaughan Williams 'Suite voor Buizen "leidt naar het hedendaagse repertoire, vertegenwoordigd door werken van Piet Swerts, Jan Van Roost en Frans Geysen, die levendig, fantasierijk en van ongehoorde sonic schoonheid: Het is niet zonder reden dat talrijke composities zijn gewijd aan de Flanders Recorder Quartet. Een expressieve improvisatie in middeleeuwse stijl wordt ook aangeboden.
Tracklist:
Suite No. 20 (from "Banchetto musicale") G minor Johann Hermann Schein (1586-1630)
Praeludium (Fantasia) & Fuga C minor [BWV 537] Johann Sebastian Bach (1685-1750)
La Marcha Tarquinio Merula (c.1590-1665)
La Livia Tarquinio Merula (c.1590-1665)
Suite for Pipes: Intrada - Minuet - Valse - Finale (Jig) Ralph Vaughan Williams (1872-1958)
Three Gadgets: Catch Phrases - Theatre of the Absurd - Flashing Flutes Piet Swerts (*1960)
I Continenti: Asia - South America - Oceania - North America - Africa Jan Van der Roost (*1956)
Czaldy Waldy - La Manfredina - La Rotta della Manfredina (c.1400, arr. FRQ) Anonymus
op de fles Frans Geysen (*1936)
La Bizzarra Nicolò Corradini (?-1646)
Bestellijst is leeg
frq
frq
18 november 2017
Just in: American Recorder Society Distinguished Achievement Award for the Flanders Recorder Quartet. Overwhelming - thank you so much!