Nowel, Nowel!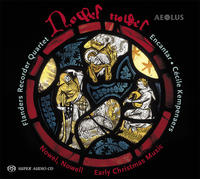 Aeolus, 2010
AE 10176
EAN: 4026798101763
Audio sample:
Clemens non Papa - Descendit angelus domini (fragm.)
Een bijzondere cd voor Kerstmis wordt gepresenteerd door Flanders Recorder Quartet, samen met de jonge Belgische vocaal ensemble Encantar en sopraan Cecile Kempenaers: kerstmuziek uit de Middeleeuwen en de Renaissance. Traditionele melodieën en gregoriaans, gemalin liedjes en koralen: dit vroege muziek van Kerstmis rediates veel karakter en kleur, vrolijkheid en contemplatie.

De grote recorders, bijna een "levend orgaan," zijn de perfecte partners voor de zangers. Om te horen op deze CD is 's werelds grootste recorder, een 3-meter lange subcontrabas.

Dit is de vijfde productie van de Flanders Recorder Quartet voor AEOLUS, en de CD debuut van de vier opmerkelijke jonge zangers van Encantar.
Tracklist:
Ave stella matutina Anonymus
Gelobet seist Du, Jesu Christ Samuel Scheidt (1587-1654)
Descendit angelus Domini Clemens non Papa (c.1510-c.1556)
Lullay, lullay Anonymus
O Regem coeli Tomás Luis de Victoria (1548-1611)
Born is the Babe Anonymus
Sweet was the Song (arr. Th. Hamond, ?-1662) Anonymus
Sweet was the Song Anonymus
Summo parenti gloria Michael Praetorius (1571-1621)
Hymnus in adventu Domini: Alvus tumescit virginis Michael Praetorius (1571-1621)
Christum wir sollen loben Jacob Praetorius (1586-1651)
Quem vidistis pastores Lambert de Sayve (c.1548-1614)
Gabriel angelus Clemens non Papa (c.1510-c.1556)
Magnificat Alexander Agricola (1446-1506)
Nowel, nowel Anonymus
Bestellijst is leeg
frq
frq
26 maart 2018
EDINBURGH BACH CONCERT: RESCHEDULED!
Our 17 March Edinburgh concert could not take place owing to travel delays caused by cancellation of flights at London Heathrow Airport. Together with the Georgian Concert Society, wer're delighted to announce that the concert has been re-scheduled for Saturday 21 April 2018 at 7.30pm at St Andrew's and St George's West Church, 13 George Street, Edinburgh EH2 9PA. Ticket holders can use the tickets for Saturday 17 March for this concert. Ticket holders who cannot attend the re-scheduled concert can apply for a refund by sending their tickets to the Administrator at 64 Brunswick Street, Edinburgh EH7 5HU together with a note of the name and address and a cheque will be sent out. Refunds must be claimed by Friday 13 April 2018. Ticket holders who bought their tickets from The Queen's Hall Box Office should apply to The Queen's Hall for refunds.