Bassano - Viva l'amore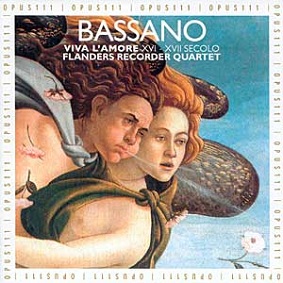 Opus 111, 2000
OPS 30-239
Audio sample:
Deze cd is momenteel uitverkocht.
FRQ & Friends
Peter Van Heyghen, Katherine Rooman & Geert Van Gele (recorder) · Capilla Flamenca· Toyohiko Satoh & Philippe Malfeyt (lute)

Een formule die het broze evenwicht tussen musicologische samenhang, concerttactiek en variëteit weet samen te brengen tot één geheel en de luisteraar behoedzaam weet te vatten in die typische Engelse melancholische atmosfeer die deze muziek uitstraalt.
Koen Dieltiens, "Adem", April 1999

Alleen maar lof voor dit mooie product.
Mirek Cerny, "De Standaard", October 1999
Tracklist:
Henry VIII -
· Pastime with good company
· Helas, madame
Bassano II - Fantasia a 5 n° 3
Anonymous - Let not us that young men be
Bassano - Pavan
Anonymous - Madame d'amours
Antony Holborne
· Galliard Passion
· Pavana Ploravit
· Galliard Sic semper soleo
· Almaine The choyce
· Almaine The honie-suckle
· Galliard Heigh-ho holiday
· Galliard The fairie-round
Ferrabosco I -
· Pavin
· Di sei bassi
· Interdette speranze
Bassano - Pavane 16 a 6
Bassano II - Almande 15 a 6
Coperario - Almande 22 a 6
Lassus - Mon coeur se recommande à vous
Lloyd -
· Puzzle-canon I
· Puzzle-canon II
Marenzio - Nel più fiorito Aprile
Blancks - Phancy
Vecchi - Saltavan Ninfe, Satiri e Pastori
Harden -
· A Fancy I
· A Fancy II
Bestellijst is leeg
frq
frq
26 maart 2018
EDINBURGH BACH CONCERT: RESCHEDULED!
Our 17 March Edinburgh concert could not take place owing to travel delays caused by cancellation of flights at London Heathrow Airport. Together with the Georgian Concert Society, wer're delighted to announce that the concert has been re-scheduled for Saturday 21 April 2018 at 7.30pm at St Andrew's and St George's West Church, 13 George Street, Edinburgh EH2 9PA. Ticket holders can use the tickets for Saturday 17 March for this concert. Ticket holders who cannot attend the re-scheduled concert can apply for a refund by sending their tickets to the Administrator at 64 Brunswick Street, Edinburgh EH7 5HU together with a note of the name and address and a cheque will be sent out. Refunds must be claimed by Friday 13 April 2018. Ticket holders who bought their tickets from The Queen's Hall Box Office should apply to The Queen's Hall for refunds.