Malus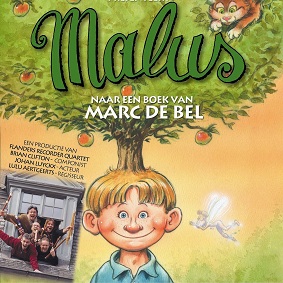 De Kunst, 2008
Audio sample:
Brian Clifton - Malus is dolgelukkig (fragm.)
Deze cd is momenteel uitverkocht.
"Wanneer Malus op de wereld komt, is de hele familie Klokhuis dolgelukkig. Maar de zwijgzame, dromerige uk vindt geen vaste grond waarop hij kan groeien en bloeien. Hij vertikt het om groot te worden. Veel liever ravot hij in de tuin van opa, met de vijf beschermengeltjes die hij bij zijn geboorte kreeg. Tot Karma, de kat, een superdikke appel op zijn hoofd mikt, recht op zijn fontanel! Na verloop van tijd begint er een boompje te groeien op zijn kruin...."

Malus is het verhaal over een jongetje dat écht wel een beetje anders is en daarom extra aandacht en liefde nodig heeft.


TEKS: Marc de Bel
COMPOSITIES: Brian Clifton
LEZING: Kurt Rogiers
MUZIKANTEN: Flanders Recorder Quartet

Koop deze cd in combinatie met het voorleesboek van Marc de Bel voor € 30.
Bestellijst is leeg
frq
frq
26 maart 2018
EDINBURGH BACH CONCERT: RESCHEDULED!
Our 17 March Edinburgh concert could not take place owing to travel delays caused by cancellation of flights at London Heathrow Airport. Together with the Georgian Concert Society, wer're delighted to announce that the concert has been re-scheduled for Saturday 21 April 2018 at 7.30pm at St Andrew's and St George's West Church, 13 George Street, Edinburgh EH2 9PA. Ticket holders can use the tickets for Saturday 17 March for this concert. Ticket holders who cannot attend the re-scheduled concert can apply for a refund by sending their tickets to the Administrator at 64 Brunswick Street, Edinburgh EH7 5HU together with a note of the name and address and a cheque will be sent out. Refunds must be claimed by Friday 13 April 2018. Ticket holders who bought their tickets from The Queen's Hall Box Office should apply to The Queen's Hall for refunds.