PROGRAMME
Derzeitige Programme
A Song for all Seasons, Instrumentalmusik und Lieder der Renaissance

Flanders Recorder Quartet, Blockflöten & Cécile Kempenaers, Sopran

Die vier Jahreszeiten, der Wechsel der Zeiten … Schon immer hat dieser unablässige Wandel die Menschen beschäftigt, und viele Künstler haben das Thema bildlich dargestellt oder vertont. Zweifellos nehmen wir durch unsere angenehm beheizten Wohnungen im Winter, die klimatisierten Räumen im Sommer und den Schutz, den uns Züge und Busse vor Frühjahrsschauern und Herbststürmen bieten, die Jahreszeiten heute anders und weniger extrem wahr als unsere Vorfahren. Für die Menschen der Renaissance war der Wechsel der Jahreszeiten jedoch bis in jedem Aspekt ihres Lebens spürbar, er betraf die Arbeit, die Möglichkeit zu reisen, die Nahrung und die Bräuche. Die bildende Kunst des Mittelalters und der Renaissance führt uns die jahreszeitlichen Unterschiede immer wieder vor Augen – in einer Ästhetik, die damals aber nur einigen Privilegierten zugänglich war.

Der Wechsel der Jahreszeiten übte aber nicht nur auf bildende Künstler eine Faszination aus; auch in der Literatur und Musik sind die Jahreszeiten ein wichtiges Thema. Unser Programm bietet hierfür instrumentale Beispiele aus Italien und Flandern, außerdem Werke, bei denen große englische Renaissance-Gedichte Teil der Musik ist, die so genannten "consort songs", und wunderschöne zeitgenössische Vertonungen von Shakespeare und Ben Jonson, der zu seiner Zeit berühmter war als der Dichter aus Stratford-upon-Avon.

Musik aus Italien, Flandern und England steht im Mittelpunkt von A Song for All Seasons, einem abwechslungsreichen Programm mit Renaissancemusik für Blockflöten und Sopran mit Werken von unter anderem Richard Nicholson, William Byrd, Robert Parsons, Pierre de la Rue, Guiseppe Giamberti, John Dowland und Thomas Simpson.

J.S. Bach is without doubt the greatest musical genius that Western culture has produced. Bach composed relatively little for the recorder. This is the only error that we, as recorder fanatics, can perceive in this genius of a composer. In this programme FRQ brings you arrangements of beautifully expressive chorals, lively Italianate concerti, highly inventive preludes and fugues, and a monumental passacaglia.
Four personalities, four individuals melt together, as it were, into one player...
The Final Chapter, 30 Jahre Flanders Recorder Quartet

Jubiläum & Abschied

Mit dem Konzertprogramm Final Chapter präsentiert sich das Flanders Recorder Quartet zum letzten Mal. Traditionell stellt das Ensemble jedes Jahr ein neues Programm vor, das nicht nur ein feuriges Plädoyer für die Blockflöte ist, sondern auch dem Ohr der Zuhörer – der Kenner, Liebhaber und zufälligen Besucher – schmeichelt und ihr Herz höher schlagen lässt. Im neuen Programm werden mehrere Jahrhunderte durchschritten, wobei sich Klänge und Stimmungen ergänzen und vervollständigen – oder aber Kontraste bilden. Es erklingen Transkriptionen von Werken für Orgel und Traversflöte, abwechselnd alte und neue Kompositionen sowie zwei die Fantasie beflügelnde Auftragswerke; die unerwartete Note ist der Up-Tempo Swing. Final Chapter feiert die Blockflöte und ist ein krönender Abschluss, ein farbenprächtiges Abschiedsfeuerwerk.

Frühere Programme
For its Silver Jubilee, the Flanders Recorder Quartet is presenting a very special project. We're not celebrating alone, but with friends in a remarkable configuration of recorder quartet, string quartet and harpsichord. This might seem an unusual assemblage anno 2012, but in the baroque era this combination was the customary fashion. The nobility and sovereigns, who liked to boast with art and music, ensured recorders, strings and harpsichord were present at public feasts and celebrations, to be ardently listened to or in the background as 'Tafelmusik'.

Our anniversary repertoire consists of top hits from the baroque era. It goes without saying that Johann Sebastian Bach cannot be left out of such a celebration. Bach's music is the highlight of the contrapuntal tradition. The apotheosis of his oeuvre is his last composition Die Kunst der Fuge, but also the Brandenburg Concertos are carved in the public memories. The only digression we recorder players might accuse Bach of, is having not written anything for our ensemble, the recorder quartet. On the other hand the name of Antonio Vivaldi has a strong connection with our instrument. Vivaldi wrote whirling concerti for the recorder, and was also a potent inspiration to Bach who arranged some of Vivaldi's works and even improved them. The result of this esteem can be heard in the two concerti in this programme, reworked by the FRQ for recorder quartet, strings and basso continuo.

FRQ has been bitten by the recorder bug, and has been inspiring composers to write for them resulting in more than fifty commissions over the last quarter of a century. The skilful and beautiful music or our friend-composer Piet Swerts cannot be left out of this programme. Swerts' recorder music is, without a doubt, one of the highlights of the instrument's modern repertoire. A few years ago he was asked to provide a prescribed piece for the Queen Elizabeth Competition and the FRQ has dedicated a whole cd to him. His magically minimal piece Motion is the alien of this concert programme situated between the baroque works.

Flanders Recorder Quartet enjoys the hospitality of the Hospitium Flandriae looking for the Fiamminghi who dominated Europe musically during their stay here.
Which music are U waiting for?
At the entrance of the concert FRQ asks the audience to cast their vote; U choose the programme yourself from a selection of 100 greatest recorder hits ranging from the Middle Ages until 2009. FRQ's Jukebox is a plea for the recorder in all its glory!

Bach's magnificent architectural passacaglia as an evening entertainment? Or do U prefer Eastern improvisation and bluesy songs? No problemo: U vote, we flute!

Pädagogische Programme
frq
Concerti , released 27.Oktober 2014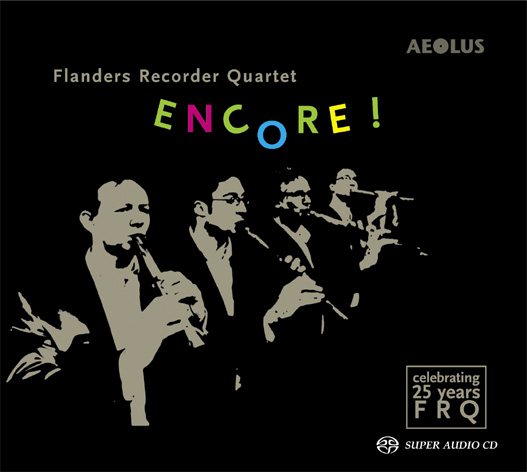 Encore!, released 12.Oktober 2012
frq
27.Oktober 2016
Pictures and programmes have been updated!